The Author – Dr. Lynn Kowalski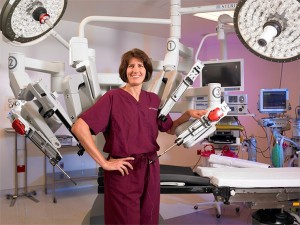 Dr. Lynn Kowalski is a gynecologic oncologist practicing in Las Vegas, Nevada since 1998. She has performed thousands of hysterectomies with a special interest in minimally invasive surgery. With her extensive training and experience in the many approaches to hysterectomy, she is uniquely qualified to counsel patients about their options. She approaches her practice of gynecologic oncology with compassion and expertise. She has also participated in the training of many young gynecologic surgeons to build a foundation for future leaders in the field. For more information about her practice, visit the Nevada Surgery and Cancer Care website. To watch videos of her actual robotic procedures and view educational seminars, visit her YouTube channel.
To View Videos Of Robotic Procedures
and Seminars Click Here
Dr. Kowalski graduated from The Johns Hopkins University in 1986 with a bachelor's degree in Biology. She attended medical school at Washington University in St. Louis, graduating with the distinction of membership in the Alpha Omega Alpha Medical Honor Society. On to The University of Pittsburgh, she completed her residency in Obstetrics and Gynecology in 1995. It was during her residency that she decided to pursue additional training in the subspecialty of gynecologic oncology. She was drawn to the field because of the unique combination of advanced surgical skills and comprehensive cancer treatment . She then returned to Washington University in St. Louis for her fellowship in Gynecologic Oncology.
Doctor Kowalski's medical practice focuses on the treatment of gynecologic cancers including ovarian, cervical, uterine, and vulvar cancers. She also offers her surgical expertise for complex gynecologic problems such as fibroids, endometriosis, pelvic masses, and treatment of precancerous conditions. She sees patients in her office on Mondays and Thursdays, and performs consultations via online video conferencing on request.